Promising a high-octane cash action and exciting prizes like Kia Seltos, BMW Bike, Apple MacBook Pro, iPhone 13, PlayStation 5, and more, India's largest Poker Cash festival 'ORBIT' is running full steam at the luxurious Deltin Royale Casino in Goa. It's day three and the action seems to have reached a fever pitch at the festival. Players, both old and new, seemed excited and keen on wanting to participate and take their shot at the grand prizes up for grabs. The opening round of the daily lucky draw taking place on 21st October saw Anil Adiani from Kolkata (Won Apple MacBook Pro), Vinayak Malani  (Won iPhone 13), and Anshit Patel, both hailing from Gujarat (Won Play Station 5) being felicitated at the lucky draw.
The second round of the draw took place on 22nd October where three more winners felicitated amidst a lot of pomp and glory. The first place prize belonged to the former DPT Main Event Winner Awnish Singh who won Apple MacBook Pro and his prize was collected by his close friend (pictured).
The second-place prize at the second round of the draw went to Hetal Desai who won the beautifully designed iPhone 13. The third-place prize was the Play Station 5 that went to Fenil Gada. The winners were really happy with the prize they won. They are really enjoying the festival and having a great time.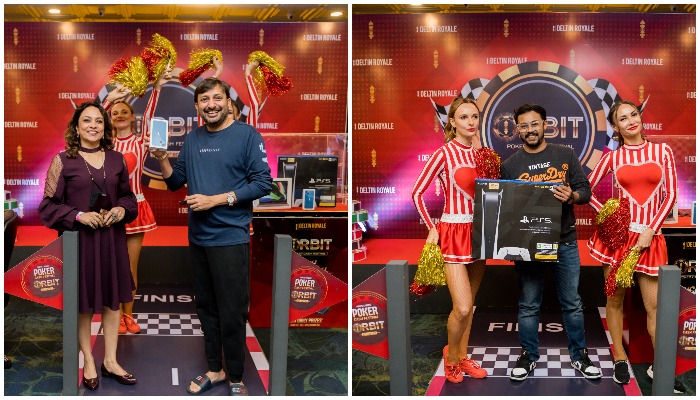 Three days are already in the books and the mega festival is now two days away from its culmination. The next two days are going to be bigger with grander prizes like BMW Bike and KIA SELTOS up for grabs.
Keep following Online Poker News (OPN) for updates from India's largest Poker Cash festival ORBIT!